No, these aren't the mysterious "lost videos" that were rumored to have been found a while back. These are just a few clips of an ongoing project to restore the old videos from 40 years ago. This should be done in S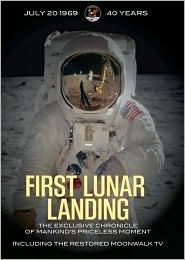 eptember for the full moonwalk possibly.
On the topic of videos,
Barnes and Noble
bookstores has a special video released exclusively for the bookstores. It's produced by
SpacecraftFilms.com
, and is the same great quality stuff as their other sets (which I have a growing collection of). I'll try to post a review once I get around to seeing it. I did peek briefly at it, ad all 3 cats left the room in terror when the 5.1 surround sound clip of the Saturn V launch fired up.